Columbia Tusculum renovation and addition
(Click Photo for addition pictures)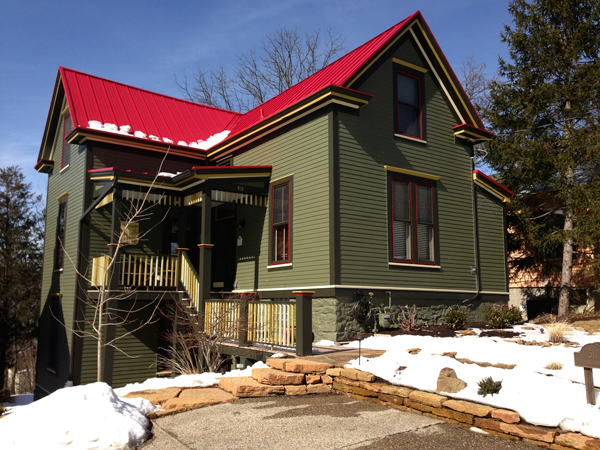 Solar thermal, photovoltaics, greywater collection and energy efficiency improvements
This 130-year-old home has seen a lot of alterations in its long history and was in need of a major facelift and material & technology updating to give the structure another century of life. This picturesque hillside neighborhood has tremendous views of the Ohio River and downtown Cincinnati seven miles down stream. The rear of this house oriented directly down river with stunning views of downtown Cincinnati, Cincinnati hillside communities and Northern Kentucky basin communities. The full panorama was only visible from the outdoor decks; the existing interior spaces of the house had very limited access to the views. The program was to make this view, the real asset of this site, a part of each living level with the additions and alterations. On the lower level the yoga studio was re-oriented into the addition with windows on the south side and rear, focusing toward the view, with the remaining space allotted to a large bath, dressing and sauna space. The living level was expanded into the addition, again with windows on the south side and rear, creating a great room space focused toward the view for everyday living and guest entertaining. On the upper level, a rooftop terrace is built over the addition with access from master bedroom and the first floor by means of an outdoor metal staircase from the kitchen. The entire house was then re-clad with fiber cement siding and the old metal roof was replaced with a new metal roof. The southern face of the rear roof has solar thermal panels, the rooftop terrace has a pergola with photovoltaic panels as the roof and the crawlspace under the addition has a greywater blatter for rainwater collection and future re-use.
---
Links
Read a review of this project from House Trends Magazine!
Read a review of this project from Cincinnati Refined!
Cool Homes/Green Living in Columbia Tusculum - Cincinnati.com Article